COLD STORES
Being a turnkey solution provider specialist, we not only cater and serve the complete food industry, but other industries as well like pharmaceutical, hospitality, chemical telecom, etc.
Each industry being different demands specific storage requirements, with variables like temperature, humidity, room pressurization, odor control, air treatment, bacteria control, etc.
Employment of Latest Technology in terms of storage, demands for techno-commercial feasibility to any solution thus it is of foremost importance in our design, delivering unmatched, more lasting economical solution, supported by training and timely service support.
INSULATED PANELS & DOORS
Insulated Panels We supply and install a wide range of sandwich panels depending on the application,
The range offered is more diversified with the option of
Thickness from 50, 80, 100, 150 to 200 mm
Surface material such as Pre painted, Plastisol-coated, PVC laminated, stelvelite-coated, stainless steel, etc.
Thickness of surface material: 0.35 to 1.2 mm and more
Finish: Panels have a range of finishes from standard to ribbed, Equi-Bead, flat & Micro Rib.
Fire rating: normal to "B2" and PIR Chemical as per the Fire & Safety regulatory authority.
Tongue and Groove method: single or double groove
Doors
Our range of supplies include PU Insulated
Sliding door
Hinged door
Swing Doors
Roll-up Shutter doors
Thermal Vision glass in doors (optional)
Stainless Steel hinges and locks
Motorized operation (optional)
Exceptional durability for door heaters
INDUSTRIAL REFRIGERATION
Industrial refrigeration range offered by Thermozone is not limited to traditional systems but is more diversified depending on the application.
The CFC free Freon based vapor compression systems in form of Compressor 'Packs' and 'Racks' with varying capacities.
Ammonia absorption systems with small and large capacities suitable for most of the industries
Blast Cooler for blast chilling and freezing, most suitable for fish, meat and poultry industry.
Shock Freezer: Industrial shock freezer restores the food with its original moisture content, texture & color, suitable for food processing industries.
Evaporative Condenser: for power saving, suitable for all industrial applications.
Cooling Towers: 'natural' to 'induced forced draft', exceptional material for 'fills' , temperatures up to 80t and least water loss through evaporation, FRP body material, is what we offer with our cooling towers, most suitable for process cooling and as 'heat rejection' unit
Thermozone has the capability of running all these systems with alternative power sources such as solar, wind, etc.
Remote monitoring: all the industrial systems offered are equipped with specifically designed control panels that offer the option of remote monitoring and control
Most of the robust systems offered are internationally approved as in US, EU and elsewhere, and accredited with credentials like the CE, UL, TUV, ARI, ASHRAE, AMCA, RSES, Eurovent, ISO 9001:2008, IEEE, ASTA, NFPA, CTI, etc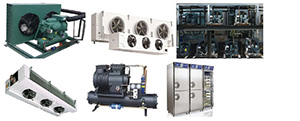 COMMERCIAL REFRIGERATION
The range offered by Thermozone is not limited to the following list. Condensing Units; with semi hermetic, hermetic and scroll compressors that are either
Water cooled condensing units
Air cooled condensing units
Coolers:
Single direction air discharge coolers, for typical application
Dual direction air discharge coolers, ideal for temperature controlled corridors, ante rooms, etc.
Coolers with high static axial fans & blowers for long range air throw up to 60m and more.
Brine Coolers for chilled water and glycol application • Normal air conditioning coolers with axial fans (or) blowers
Fresh Air Handling Units for 'fresh air' in the process area, most suitable for processing & packaging industry
'Air filtration' and 'odor control' options for clean rooms, most suited for pharmaceutical industries, laboratories, etc.
Kitchen Appliance – The 'Assistant':
A chef's at most desire comes true by using Irinox , let it be
Blast chilling: to restore aroma, quality, taste and extend shelf life.
Proofing: an ideal cycle for all leavened dough that lets it rise (during night, for example) and holds it until it's time to go into oven.
Thawing: a delicate cycle that uses a combination of warm temperature and suitable ventilation to take the frozen product to a positive temperature without damaging its structure. The range also includes 'one unique holding cabinet' and three functions.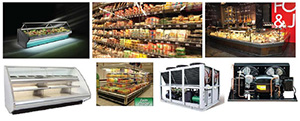 SUPER MARKET SOLUTION
With the ever growing demand for fresh and frozen food in a supermarket, gives primary importance to one of the sales aspects and that is the 'Products display', here we are as Thermozone to simplify the process.
We offer custom made solutions, fabricated to suite each and every individual supermarket, keeping in mind the maximum utilization of that every confined space.
The range includes but is not limited to this list: `Island and wall-sited cases', 'Multidecks', 'Roll-In Cabinets', 'Small Multidecks & Semi Verticals', 'Ultrafresh' & 'Vertical Freezers with Combinations'
The above range offered includes tens and hundreds of models each one serving its purpose uniquely and precisely for the following industry classified by the type of food:
'Dairy & Cheese', 'Beverages', 'Fruits & Vegetables', 'Minced & packed Meat', 'Sandwich', 'Convenience & Packed Food', and not a part of food are 'Flowers & small plants'
The condensing unit range offered is designed to suite each and every cabinet it is serving, from normal individual units to compressor racks. All of which are conforming to international standards.
The high footprint productivity.
Economical and Environmental aspects.
Precise and Modern aesthetics.
Temperature, humidity and odor control.
Total satisfaction and value for money, guaranteed.
HVAC SOLUTIONS
We represent ALFA LAVAL – Sweden, world leading manufacturer of heat transfer equipment specializing in plate heat exchanger technology.
Range of Products include,
Gasketed plate heat exchangers
Copper brazed plate heat exchangers
Fusion bonded plate heat exchangers
Alfanova 100% SS construction
Radiators/Dry Coolers
Associated products include,
Heating & Cooling Systems for Tap Water & Swimming pool applications
Pressurisation units
Legionella Treatment systems
Solar Heating systems
Insulation and Drip tray
CHILLED WATER SOLUTIONS
Thermozone offers a complete range of chilled water solutions; let it be for comfort air conditioning (or) process cooling in an industry from normal temperature to -25°C for glycol application, we have it all. From 'small' to 'very large' capacities with several shapes and sizes depending on the application, Thermozone offers the flexibility to choose.
Heat Pumps
We offer a wide range of heat pumps to choose from, but when it comes to heat pumps that are used for domestic swimming pools, these units are often installed near the Gardens, Lounges, & Relaxing places thus are required to be aesthetically pleasing and more importantly should have low noise. Yes, Thermozone has it all, 'made-to-order' units are fabricated to suite any requirement, from 'shape' to 'color' to 'specific noise level'. We offer units with low noise up to 25 db (A) i.e. just like whispering.
Ice-Making machines
The exceptional compatibility of Thermozone to offer such a wide range of Ice making machine is itself worth discussion
From Block Ice, to Flake, Granular, Alfa, Gala, Delta, Super Star, Quasar, Spika, Pulsar, Scala, or in fact any shape that suites your application.
Ranging from several kilo grams a day for smaller requirement such as in a supermarket to several tons a day for industrial usage. • Specifically designed 'Ice Crushers' and 'Ice Storage Bins' from ready to select or 'custom-made', we have it all.

Falling Film Chillers

Falling film chiller allows water to chill down to 0.5`C without danger of freezing, no damage occurs to the unit even if the regulation fails and cause building of ice. These chillers can be used to chill even polluted liquids as well.The high temperature difference is possible with various plate sizes. Thermozone is the dealer of the renowned brand 'BUCO'.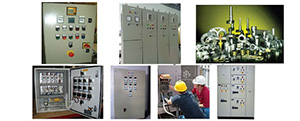 ELECTRICAL SYSTEMS
Electrical Systems Thermozone has the complete range of Electrical products related to the industry that includes.
LV Panels up to 4,000 Amperes.
MDBs,SMDBs,DBs,Meter cabinets.
Power Factor Correction Panels (Capacitor Banks).
Motor control Centers (MCC).
Variable Frequency Drive (VFD) & Soft starter Panel.
ATS and AMF Panels.
Air Handling Unit Control panel.
Control Panels for Refrigeration Rack and packs.
Swimming Pool & Fountain Control Panel.
Custom built panels to suite any requirements.
All these panels conforms to international standards such as ASTA, IEC, IEEE, IP65, NEMA, etc.
BMS Integration and Remote Monitoring
Thermozone optionally provide the following functions.
7" LED color display with status indicator in the control Panel for compressor racks or packs.
Multiple monitoring functions of operating conditions.
Integration to Building Management system with SCADA.
Communication channels between devices are established through telephone, Ethernet, internet, wireless or satellite.
Service and Maintenance
Thermozone offers wide range of yearly maintenance contracts that includes the following schemes
Both maintenance with and without spare parts.
Maintenance concept of 'We know before you know', thus ensuring 100% no breakdown.
Service Back-Up
Thermozone main strength is exclusive service back up, on call 24/7.
Spare Parts Availability
We have one of Largest stocks of spare parts.